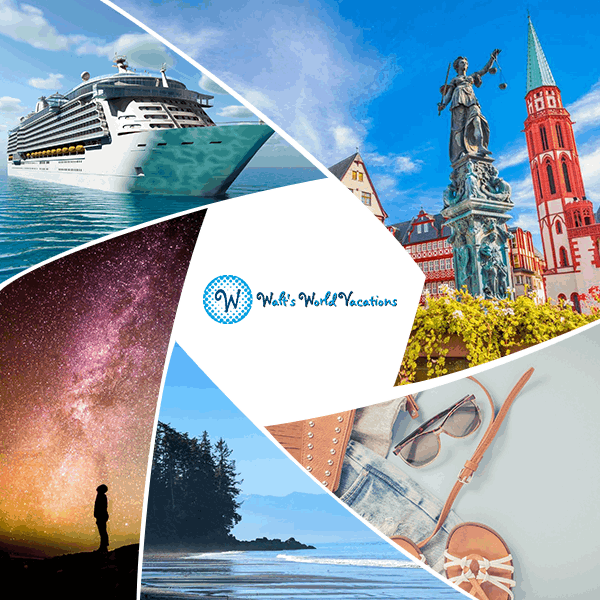 Walt's World Vacations offers concierge-level services to assist in the planning and preparation for ANY vacation you choose. From cruises to theme parks, adventurous tours to an island paradise, there is a perfect destination for everyone. We want to take the stress and worry out of planning your own vacation. In order to make your vacation planning experience easier, we are here to:
All our services are 100% COMPLIMENTARY to you, our guests. We look forward to helping you make your vacation dreams come true! Please contact us today or click below for your no-obligation quote. Know that We do the WORK so you can focus on the FUN!®
Many years ago, we chose to turn our love of travel and our desire to help others into a lifelong dream... opening our own agency.  As frequent travelers with a growing family, we were often approached by friends, family members, and acquaintances for travel advice.  We were always happy to assist and realized we wanted to help as many families as possible. We discussed our plans with our children who not only agreed wholeheartedly, but also voted to name our agency after their baby brother Walt (who was, at the time the youngest/favorite sibling).  Thus, Walt's World Vacations was born.  Our agency began with the goal in our hearts to help all travelers with their vacation plans; to create and share memories that last. Over the years, both our family and our Walt's World family have grown but our agency's concept remains the same as the day we started.
Our team is made up of some of the best and most knowledgeable agents within the travel industry. In order to better assist with your planning, our agents visit many destinations, attend webinars, seminars, and workshops to further education and take tests to reinforce what they learn. We do this to ensure you receive the best service and most accurate information.
Our motto at Walt's World Vacations is "We do the WORK so YOU can FOCUS on the FUN"®. Let us help to make your vacation as stress-free as possible. Our agents go above and beyond for every guest and are ready to begin planning your trip today! Request a Quote to get started or find an Agent to work with you.